Zimbra Mail for Business is a secure, managed Enterprise Email and calendaring service with support for existing desktop and mobile email clients.
EMAIL
Business Class Email with all Enterprise class features you would not expect for that price.
CALENDAR
All your appointments in one place. Shared or personal – you will never be late again.
CONTACTS
Manage all your contacts – company wide for optimal business benefits.
TASKS
Manage all your To-Dos centrally and share them with others. Collaboration redefined.
Zimbra Business Email enables you to easily deliver highly secure and reliable email and collaboration capabilities to users. The service provides strong security controls, support for existing desktop and mobile email clients, and allows basic internal and external document sharing with Briefcase. Users can seamlessly access email and calendars using their existing credentials with Microsoft Outlook, Apple Mail, web browsers, or mobile devices.
By migrating to Zimbra, you are freed from the burden of hardware and software maintenance of on-premises email servers. You just enable your users for Zimbra Email and the service handles all of the patches, back-ups, and software upgrades. As your needs grow, it's easy to add more users with a few clicks in the Web Oasis Client Portal.
Collaborate - Everywhere and secure
Zimbra is compatible with every Mail Client but also offers a unique webmail interface – for the big screen but also for all mobiles – so you never miss a message or appointment or forget a contact detail.
A clean, ad-free inbox
Spend your time communicating—not managing email accounts, worrying about how to protect your email, or slogging through an inbox cluttered with ads.
Safeguard your mobile data
If you lose your phone, don't panic. With Premium and Enterprise realMail, you can wipe your data from it remotely to prevent unauthorized access to your information.
Built-in defense for security
You'll have industry-leading anti-malware protection and anti-spam filtering to guard your email from those ever-present mail threats.
Built-in tools for managing
Manage your day to day activity easily from our Web Console. Administrators can add accounts on the fly, manage Alias and Distributions lists and more.
Any Device
Zimbra incorporates the latest Synchronisation technologies that allow your Users keep using their Microsoft Outlook, in Microsoft Windows or Mac OS X
Exchange Active Sync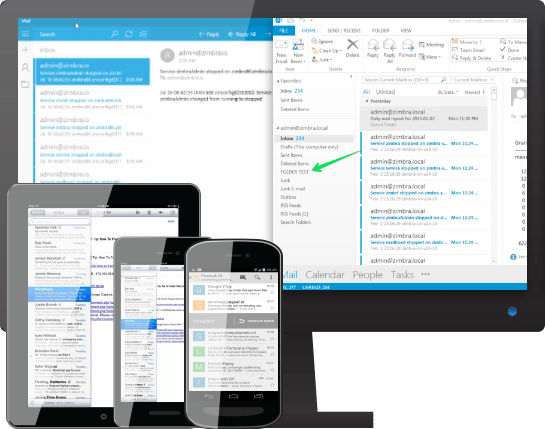 Zimbra provides the latest version of Exchange ActiveSync (EAS), which allow your users to sync their entire Mailbox, Calendar, Contacts and Tasks in their Mobile Devices such an iPhone, iPad, Android, etc. This option allow as well to connect Microsoft Outlook using EAS.
Exchange Web Services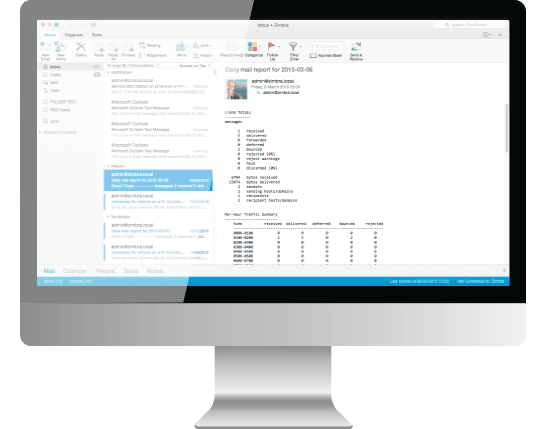 If your users are using an Enterprise Email Client like Microsoft Outlook, in Mac OS X, realMail provides Exchange Web Services, which allows your users connect their entire Mailbox in their favourite Apple Operating System. Microsoft Outlook 2011 for Mac and Microsoft Outlook 2016 are both supported.
Outlook Synchronization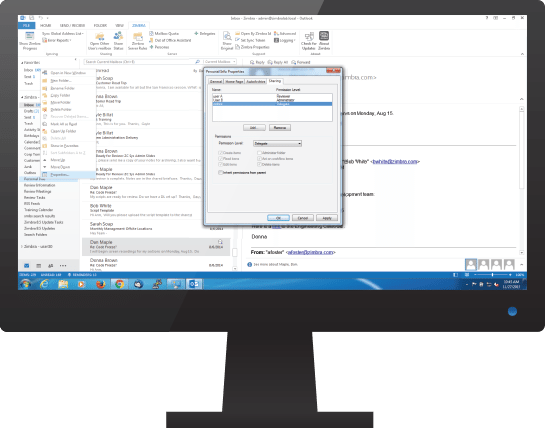 If some of your users prefer to work with Enterprise Email Client like Microsoft Outlook, realMail provides a MAPI Connector which allows your users see their entire Mailbox in Microsoft Windows using Microsoft Outlook 2007 and above. Your Company will not expend money in training for new Email Client tools.
Highly Flexible
Our different Package include even more features. We can also completely white-label Zimbra for your Company or if you are a reseller. Simply contact us for more information.
Basic Plan
1GB Mailbox
POP/IMAP
Custom Domain Integration
Personal Contacts
SSL Security
$0.50 /Month
Standard Plan
5GB Mailbox
POP/IMAP
Custom Domain Integration
Shared Contacts, Calendar
SSL Security
$1.06 /Month
Premium Plan
25GB Mailbox
POP/IMAP/MAPI
Custom Domain Integration
Shared Contacts, Calendar & Tasks
SSL Security
Personal/Group Brief Case
Public Folders
ActiveSync/Push
$2.70 /Month
Enterprise Plan
50GB Mailbox
POP/IMAP/MAPI
Custom Domain Integration
Shared Contacts, Calendar & Tasks
SSL Security
Personal/Group Brief Case
Public Folders
ActiveSync/Push
Archiving & Discovery
Legal Hold
Custom Retention Policies
Mobile Device Management
$4.06 /Month